The Book: A Christian Study of Evil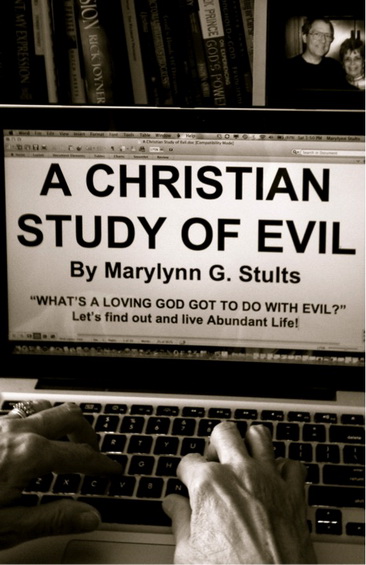 Have you, like so many of us, ever wondered,
"Why does a loving God allow such horrible things to happen? Why does such awful evil occur?"
Evil. What is it? Why is it here? And what can we do about it?
That's the gist of A Christian Study of Evil: The what, the why, and suggested response(s) to evil for we have the tools now to overcome it in the name of Jesus.
But, why learn about evil, per se? Well, in case you haven't noticed lately, there's a whole lot of it running rampant out there, in every walk of life, much of it not only unchecked but even encouraged.
There are numerous approaches concerning appropriate responses to evil. Consider the horrible tragedies of young lives being taken down by gunmen gone berserk. Many government leaders blame the weapons as though they had life of their own and marched into the public forum, pointed themselves, and began shooting. Some leaders question the mental integrity of the shooters and what might be done about that. I suggest we need to strongly consider the Biblical perspective, yet not only for the outrageous crimes being committed, but life in general because the presence of evil is real, prevalent, and universal. Ignorance is not bliss, but rather is the condition that prevents fullness of life.
In the book A Christian Study of Evil, evil is defined as "the supernatural force in nature (the BEYOND the natural force) that governs and gives rise to wickedness and sin." Evil and sin are not synonymous; rather, "sin is a natural and willful (in other words, chosen) ACT of evil, whether by commission (act of doing it) or omission."
Jesus, The Word of God, has given us His own authority over evil – in fact, over all of the power of the enemy! – as well as thorough instruction in how to implement it. Such wisdom helps us conquer fear and live the abundant life right here and now on Planet Earth that He prepared for us. I believe that, regardless of how insignificant or great your biblical savvy, you'll be amazed at the sound doctrine and exciting information you'll glean from A Christian Study of Evil.
The teaching A Christian Study of Evil is yours free as PDF download click here.
CONTACTS
Marylynn G. Stults, This email address is being protected from spambots. You need JavaScript enabled to view it.