Christian Studies
(Heinrich Hofmann, "Christ and the Rich Young Ruler" 1889 - Public Domain)
Here are exciting Christian Studies to encourage, enlighten, educate, and strengthen you in your Christian walk. Their description follows and you may download them in PDF (at no charge) for your personal study!
Study: NEW BIRTH
Click here to download the free PDF copy

WHAT? WHY? HOW?
Your new beginning.




Study: GETTING TO KNOW THE HOLY SPIRIT
Click here to download the free PDF copy
(This statue made by my husband depicts Jesus represented by the Cross, the Father represented by the bush as in Exodus, and the Holy Spirit represented by the wind – breath – behind them.)
The Holy Spirit is, quite possibly, the most misunderstood person in the world. A recent survey by Christian pollster Barna Group is headlined, "Most American Christians Do Not Believe that Satan or the Holy Spirit Exist"; so I guess I should have said, "The Holy Spirit and Satan are, quite possibly, those most misunderstood in the world"!
Enough already! (for the moment) has been covered about Satan in A Christian Study of Evil; this particular study is about God present on earth Whose infilling and spiritual baptism help us to lead the abundant life of which Jesus spoke in John 10:10, and to prevail over the devil. But, sadly, only about a third of those questioned in the Barna poll believed the Holy Spirit to be a "living force." Perhaps this study will help some squelch the misconceptions! There's nothing new under the sun, though; check out Acts 19:1-2:
"And it came to pass, that, while Apollos was at Corinth, Paul having passed through the upper coasts came to Ephesus: and finding certain disciples, he said unto them, Have ye received the Holy Ghost since ye believed? And they said unto him, We have not so much as heard whether there be any Holy Ghost." Well, at least they had the excuse of not having a Bible handy on the coffee table!
Just exactly as we breathe air in our bodies yet it is simultaneously everywhere available for all to breathe, the Holy Spirit comes to dwell in us and be with us; this is an extraordinarily accurate analogy, as you will see! Furthermore, He brings us Jesus; and, in fact, "Know ye not that ye are the temple of God, and that the Spirit of God dwelleth in you?" Paul asked in 1 Corinthians 3:16. Oh, this is SO exciting, for you need never be alone!
We, too, can do the works that Jesus did and, yes, greater works as it is written in John 14:12 if we can believe and stay the course. We, too, can be born of the Spirit and become sons of God and joint-heirs with Christ (John 3; Romans 8), but without the baptism of the Holy Spirit? JESUS REQUIRED THIS BAPTISM; WHO ARE WE TO DO WITHOUT IT?
The "HEY" Series
Study: "HEY, WHY ARE YOU RUNNING 'ROUND NAKED?" ...when God has a closet full of clothes for you to wear!
"Huh? What's that mean?" you wonder. Dozens of times in the Bible the LORD uses the word "garment," and speaks of our "putting on" and "taking off," being naked, unclean, filthy, and even stinking! But, God has got us COVERED if, like young children, we learn how to bathe and dress ourselves!
Since we first sinned and were naked – vulnerable – to the enemy, the LORD has provided many protective coverings for us. Unlike the natural clothes we wear that only cover our nakedness, God's garments – like the full armor of God (Ephesians 6) – have supernatural powers! Is it redundant, therefore, to speculate He wants us to – and is ready to help us – clean up our acts?
Study: "HEY! WHO TOLD YOU THAT? WHO TOLD YOU THOSE LIES?"
Click here to download the free PDF copy
...lies like "You shall not surely die" (Genesis 3:4) stated by the deceiving serpent to the woman in the beginning".
(The Fall of Man by Hendrik Goltzius 1616; public domain)
Yes, for thousands of years, man's been buying lies – hot air! – not knowing Truth from a lie which itself is a problem, but the bigger problem is we don't know it's a problem! Whew! Let's shine the light of Truth on lies. Let's get a hold of the TRUTH OF THE WORD OF GOD and the love, mercy, grace, and power resident in it.
Study: "HEY! WHEN ARE YOU GOING TO LEARN TO KEEP YOUR BIG MOUTH SHUT?"
Click here to download the free PDF copy
Don't take offense – God made us with two eyes to see and two ears to hear, and each of them has a singleness of purpose; but He only provided one mouth – and it, actually, multitasks, serving important purposes in addition to talking. Think He might be trying to tell us something? Yes, it's a wonderful concept to be quiet and hear His still small voice for it is in our hearts that we hear Him!
Often, when communication is taught, the instruction is how to successfully get your point across, not listen. This is a great teaching to encourage you not only listen better to others, but yourself, as well (and, that can be a real eye opener!). "But the tongue can no man tame..." (James 3:8).
Study: "HEY DEVIL! GET YOUR HANDS OFF MY FAMILY!"
Click here to download the free PDF copy

(Pictured is My Childhood Family)
"The thief (devil; Satan) cometh not, but for to steal, and to kill, and to destroy: I am come that they might have life, and that they might have it more abundantly," Jesus enlightened us in John 10:10.
The LORD has shown me how Satan is powerless to our prayers prayed scripturally for our families and ourselves when we understand the Biblical principles set forth in this teaching. WARNING!! DO NOT TRY THIS ALONE! (Hey: You don't have to, because Jesus and God the Holy Spirit will make intercession with you.)
Study: ALL THINGS ARE POSSIBLE!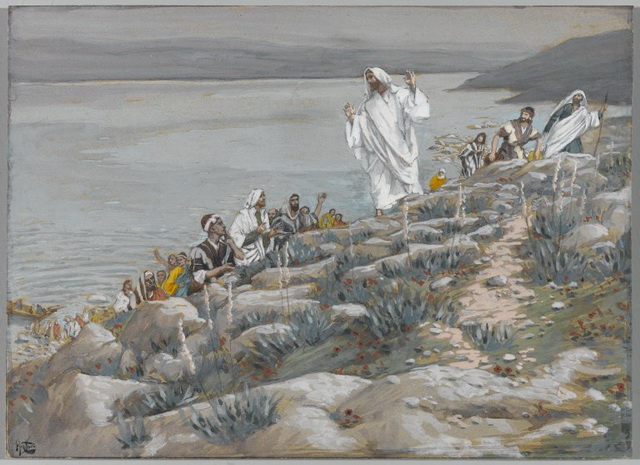 ("You Follow Me for the Miracles" by James Tissot; Public Domain; Brooklyn Museum)
Jesus said ALL things are possible (He added one place, if you can believe…), but how do we put it into action? I believe it's through a growing DISCOVERY of who we are in Christ. He performed countless amazing works here when He was just a mortal Man and what did He tell us to do? He told us to do amazing works, too! Now, man has invented incredible things. Many attribute them to human genius, and omit The Creator Whom we can only emulate or imitate. HA! Ifany one of us only knew our potential through God!
All man's inventions combined don't compare to the amazing works of one Man well before electricity was even harnessed. Now, I haven't walked on any water lately so I am not pointing fingers at anybody, but Jesus didn't just tell us to do works like His; He said to do even GREATER ones! I don't know about you, but I'm living far short of even His simple assignments. Why, many of us barely get the love and marriage or turn the other cheek thing right, so how can we do Jesus' hard teachings when we've underestimated or overlooked even easy ones?
In "All Things Are Possible," we'll go step-by-step to see how to fulfill Jesus' teaching in John 14:12 (and other scriptures of Power and Authority in His name) to live and do as He intended!
CONTACTS
Marylynn G. Stults, This email address is being protected from spambots. You need JavaScript enabled to view it.